Winter Groeschl, MC, LPC
Licensed Professional Counselor
Winter is a Licensed Professional Counselor who has experience working with individuals of all ages providing care and support for those facing eating disorders, addiction, codependency, depression, anxiety, trauma, and more. Winter uses an integration of modalities and approaches with her clients, including CBT, DBT, and Client Centered Therapy. Her goal is to assist each client in exploring their true self while connecting to their immense capacity for growth, a restored sense of self, and a consistent feeling of empowerment in all that they do.
After graduating from Arizona State University (ASU) with a Masters in Counseling, Winter began working with adolescents with cognitive processing disorders, learning disabilities, Autism Spectrum Disorder, and behavioral issues. In 2019 she took on the role of Lead Therapist for The Adolescent Program at Rosewood Center for Eating Disorders. Her focus was on supporting clients and their families in navigating freedom from a life impacted by anorexia, bulimia, binge eating disorder, ARFID, and other unspecified eating disorders. She began monthly support groups for families of adolescents in the IOP program to provide education and practical skills on how to support their loved ones.
Winter is an advocate for members of the LGBTQ+ community and is passionate in providing an affirming and safe space for all individuals. She is available to speak about eating disorders and body image issues within school systems and throughout the community to increase prevention and education for our youth. Winter has lobbied with other like minded providers in Washington DC to fight for increased coverage and access to quality treatment for eating disorders.
​
Initial Assessment: $165 | 50 Min Psychotherapy Session: $140
Get To Know Winter
What advice would you give to your teenage self?
---
Please be gentle with yourself. What you are experiencing is not "abnormal" or "wrong". You aren't broken...Stay open minded...Stay curious....You have a huge heart with big emotions and just because no one has taught you that those were ok, they very much are. Lean into the discomfort. You don't have to numb. ❤️
---
What's the best advice you were ever given and who was it from?
---
A previous supervisor I had back in my undergraduate looked at me in supervision one day and said "sometimes I can't believe I'm a therapist, I'm just figuring it out like everyone else." I admired her so much and her vulnerable truth made me feel safe and accepting without judgement of all my imperfections just as I was and just as I am today and always.
---
When you were a kid, what did you want to be when you grew up?
---
I always always said from age 11 and up, I wanted to be the "next Oprah." Haha
---
Who would play you in a movie about your life?
---
Jennifer Lawrence
---
What was your first job?
---
A nanny :)
---
If you had to pick a song as the theme song to your life what would it be?
---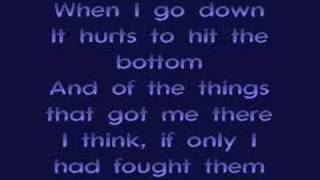 ---
If you could have dinner with anyone in the world, dead or alive, whom would it be and why?
---
I can't choose just one so my top picks are: 1. My friend Bryce who overdosed in 2016 2. Glennon Doyle 3. Oprah 4. Brene Brown 5. My grandfather who passed prior to me coming into this work
---
If you were a superhero what would be your superhero name?
---
Upper Cut Queen
---
What energizes you outside of work?
---
Boxing! Hiking. Nature. The outdoors. That is where I find I can both let it all go and tap into that energy
---
What excites you about being a therapist?
---
Watching people blossom into their true authentic selves by just practicing being open in sessions or groups. It gives me goosebumps every time!
---
What is the one thing you are the most grateful for in your entire life?
---
There are 3.... 1. My Recovery 2. My Family 3. My Supports
---
Why do you love what you do?
---
It's what keeps me going; no matter the hard or draining days, it gives me a sense of connection outside of myself. I care more about my clients winning in life than they do at times and I am forever grateful to hold that space for them. I believe so fully in everyone's ability to change and heal regardless of circumstance.
---
What are 3 things you wish clients knew before starting treatment?
---
1. This will be scary and hard, so please be gentle with yourself in this process while staying open minded and curious. 2. Trust yourself, speak your truth, and ask all the questions. 3. Let your supports know about your process on YOUR terms
---
What are 3 things you wish adolescent parents/partners knew before their loved one starts treatment?
---
1. Things will get more challenging before the sunshine, it's very normal 2. Healing is not linear- there is no "fix" because your loved one is not "broken" 3. You may need to navigate how you communicate with your loved one differently- stay open minded, curious, and lean in to an alternative approach.
---
What led you to this career?
---
My own person journey and using pain to find purpose and meaning
---
You're a new addition to the crayon box. What color would you be and why?
---
Black center with purple sparkly outer ring ;)
---
What is the one thing you are most proud of?
---
My recovery. Period ❤️
---
If you weren't a therapist what would you be?
---
Mmmmm probably a teacher :)
---
---
Convenient and secure in the comfort of home or whatever private location you like. HIPAA compliant virtual counseling sessions.
"HELP ME EAT" is a weekly VIRTUAL group for adults co-facilitated by Jane Schlueter, RDN and Winter Groeschl, MC, LAC.